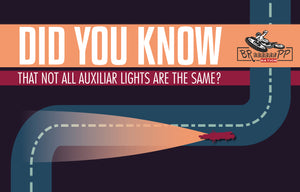 ---
Motorcycle auxiliar LIGHTS - 3 TOP Tips
In the world of adventure, dual sport and touring motorcycles, talking about auxiliar lights is something that is just bound to happen.
There is much to talk about when it comes to lights, but from our experience, there are 3 main things people tend to forget, and if for many it will be stating the obvious, for others it will be an exciting new world! 
Today we are sharing those 3 top tips! 
Lets talk about legality. 
We know most of us would like some crazy big powerful lights on our bikes!
Do we need them? For the most part no, not at all, any extra light will do the trick for most of us, but we cannot help ourselves to love the idea of lighting up the night's sky like a BAJA 1000 rider, and that counts for something!
Sadly, that dream is far road legal, and that is an important part of being able to continue to ride our bikes on the road free of problems and fines.
One of those problems goes beyond legality and sits at self preservation.
Blinding incoming traffic may happen when using non legal lights and bulbs, and that is just plain dangerous!
Always keep in mind that not all lights and bulbs for sale on the market are road legal.
Don't be fooled, there are different kinds of lights.  
Yes, there are different kinds of lights that will serve different purposes.
One of the things that hurts us the most when talking to riders is hearing them saying that they hate the lights they bought, regardless of them being from high-end brands or unbranded. 
The simple reason for that is that they bought something that was not what they needed.
Some of us here at the office did exactly the same thing the first time around, we plainly assumed that all motorcycle lights were the same thing. Boy were we wrong!! 
Be sure to do a bit of research, but on broad strokes, if you do twisty mountain roads and corner to corner is your thing, a flood light is probably what you need. 
On the other hand if you just want to look as far down the road as you can, you most likely want a spot.
Types of lights:
Driving lights are designed to supplement your high beam headlight illuminating the sides of the road making them more visible.
A floodlight can have a beam spread of up to 120 degrees. It can illuminate a larger amount of space with the same wattage and lumen output as a spotlight.
A spotlight casts a narrow beam of light, usually no wider than 45 degrees. 
Fog lights are intended to be mounted below the headlights and project a beam pattern which is very wide horizontally and narrow vertically usually called a cut-off.
Always remember that you can do as many combinations as you want and need, and that it is not uncommon to see bikes using a mix of both flood and spot lights.
Some manufacturers will even have different patterns within the same light.
However, the more lights you use, the more careful you need to be with the 3rd point we want to hit, where and how you plug your lights on your bike.
Where to install your new auxiliar lights
You need to make sure your bike has enough power to feed the lights you want to install.
For instance, it may be necessary to do some modifications to your stator or rectifier not to damage anything.
That brings us to the other point of the installation, the wiring. 
It is quite easy to damage your wiring if you don't properly plan where you will be plugging in your lights.
It is not uncommon to see auxiliary lights - wrongly - plugged into the blinkers.
That kind of wiring is not capable of handling most of the aftermarket lights, if any!
Wiring that is used above its capability can burn, and if you start burning your wiring that can become extremely expensive, not to mention dangerous enough to get your bike up in flames.
Plan where you will be plugging in your lights, it will be time well spent!

Check out our infographic on the subject
---
2 comments