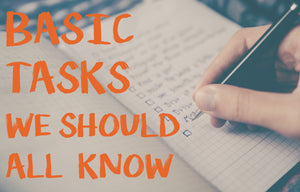 ---
Basic inspection tasks all bikes should be aware off
I believe there is a big difference between knowing what kind of maintenance your bike needs and when to perform it, and knowing how to tackle those same tasks physically.
This being, I also believe every motorcycle owner should be very aware of the first point, but not necessarily be able to perform the second.
Working on our own bikes is a great feeling, but we have to accept that it is not for everyone.
Knowing when the bike needs maintenance though, that is every bikers task if they want to stay safe out there.
Following this logic, instead of talking about basic maintenance tasks every motorcycle owner should know, I prefer to say that there are basic inspection tasks all bikes should be aware off, and some of those may include light maintenance.
What should all bikers know how to inspect:


Their chain

- Chain maintenance is an easy task, and at least lubing should be a task that all riders should know how to do



Air filter

 



- I don't mean everyone should know how to replace or clean it, but everyone should be aware of where they ride, and how different environments can degrade the air filter more than others

We also have an infographic on the subject



Engine oil

 



- I don't believe everyone should know how to do this task, but not all bikes have a

 

"check engine light"

 

and as such, its important to regularly check the oil level, and know when to replace it

We also have an infographic on the subject



Tires

 



- If regular tire inspection is a safety responsibility of every rider, knowing how to fix a puncture, at least on tubeless tires can be a big advantage for most riders

We also have an infographic on the subject



Lights

- This one I believe every one should be able to do, know how to replace the brake and driving light bulbs

We also have an infographic on the subject



Overall bike health

- As we are the ones riding the bike on a day to day basis, we are the only ones that can feel the degradation of certain items such as clutch action or a change in throttle response


Bikes don't have the same safety net as a car, so it is our responsibility as riders to pay as much attention to our bike as we can, as we are our first safety layer.
If you want to go a step above and introduce a couple more inspection tasks, you can follow the checklist bellow.
Reference: Image from Motorcycle maintenance checklist | Pre ride bike check


We have to accept that not everyone likes to get their hands dirty, and they are more than entitled to that, but if you want to stay safe on a bike, you need to know how to inspect it.
Your mechanic does not ride your bike for you, and he only sees it during maintenances.
That means you are the one responsible for your daily safety, and knowing how to inspect your vehicle goes a long way into making sure you will get to ride another day.



---