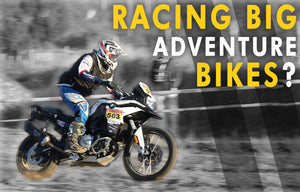 ---
Racing adventure bikes?
A question came up, can you be competitive racing the new breed of adventure bikes?
In this video, I'm sharing with you my story with a BMW F850GS Racing at the Portuguese Baja 500 Portalegre, where we tried to find the answer to that question.
Let's face it, from the Tecate Baja 1000 to the Dakar routes, any adventure bike can trail ride it, so the question that remains is, can you be competitive with the big adventure bikes?
The question was asked, and BMW Motomil accepted to try and find the answer, in no time a plan started to take shape.
Grab a brand new BMW F850GS, do some minor modifications to suit the rider, choose someone crazy enough to share the track with SSV's, Dakar Prototypes, quads, and enduro bikes, and aim to race a Baja.
As part of the plan, I was invited to film a little behind the scenes and provide some help as assistance crew.
The chosen race was the Portalegre Baja 500, a Portuguese Baja that being in FIM counts for the world championships, and where amateurs such as ourselves can share the track with names such as Nani Roma.
We knew that this was our first serious attempt at something like this, so we signed up for the hobby class, where instead of the 500kms (310 miles) we would only be racing close to 200kms (125 miles).
The choice allowed us to compare our standard-ish bike to other advs like BMW F800GS's, KTM 990's, KTM LC4s, and a couple more worthy adversaries with proven records in the big bike racing world.
I say standard-ish because some mods were done to our bike, however, nothing that we felt would drastically change this model from what many will have in their garages.
The front forks were worked on, and the rear shock replaced, both to suit the driving style and weight of our rider, nothing that most of us won't do with cartridges, or full suspensions like a Wilbers or a Touratech set.
On the front wheel, we lost one disk and replaced the braking pump, effectively losing some braking power, but increasing the feeling. Not a common choice, but every racer has his quirks, so we obliged.
An Akrapovic can was installed, and the TFT screen was replaced by a more analog option to keep costs down in case of a serious crash.
That's it, our F850GS was ready to race, and race it did!
The prologue proved itself a battle, not only for us but for all bikes in the hobby class.
The organization decided to get our class racing after everyone, and if you have never seen the damage a racing car can do to a trail, let me tell you, it's massive!
That night at the paddock the mood was coherent, with all bikers from the hobby class being quite vocal at how difficult it was to try and set any kind of time with a track like that, still, our bike did quite wheel placing mid-pack in the general classification, and first amongst the big bikes.
We spent a couple of hours making a plan for the following day, and in no time, morning was upon us!
A 5:30 wake up call, and we were off to the races!
Our bike started strong, but time was passing in the assistance zone with no news from our rider, we began to worry...
Other riders started letting us know that something was wrong with the rear tire of our F850GS, and we started wondering and planning.
Busted bearing? Blown tire? Something worst?!
Soon enough he pulled up, and behold, the tubeless rim had opened a lip on a hole, and the tire detached from the rim, forcing our rider to race close to 40 kms (25 miles) with only half a rear tire on the rim.
As the tire was surprisingly ok, quick fix ahead!
Squeeze a tube inside the rim, and off he went!
We wondered how much energy he still had, but he launched back into racing mode and started gaining positions and overtaking even smaller bikes.
Sadly, 50 kms (31 miles) from the finish line, something got stuck in the front brake line, cutting a hole in it and completely draining the brake oil, which lead to a crash.
No injuries to bike or rider, but our race was over.
So, can you be competitive and race with new adventure bikes?
Indeed you can, but racing is still racing, and luck will always play its part!
---