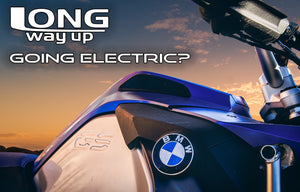 ---
Long Way Up, visionary, or a sell-out?!
If you are into adventure riding and you have not been living under a rock, chances are that you have seen or heard about the trips of Ewan McGregor and Charley Boorman on the Long Way Round, and the Long Way Down.

Even though the first dates from 2004, and the latter from 2007, the ripple effect of the show's debut still echoes today.

These trips not only filled the imagination of many that vicariously lived adventures over the many episodes of both seasons, but they also inspired many more to grab their motorcycles and hit the road, or lack thereof.

The series helped the adventure segment boom, allowing it to fill up a significant quota of sales in many markets, with the bike they used, the BMW GS, still being king of sales to this day.

With 15 years since the Long Way Round, and 12 since the Long Way Down, fans have been desperately waiting for these two ambassadors of adventure traveling to bring us more remote locations, incredible views, off-road motorcycles, the occasional fall, and of course, miles and miles of two-wheel extravaganza.

If you are one of those that have been holding on to your seat for years and despairing when news of a potential Long Way Up arise every other year, I'm sure you felt like a kid on Christmas Eve when a few months ago Charley confirmed that the project was about to start filming.

The news rapidly spread in the adventure riding circles like wildfire, but with both riders now working with different brands, and with so many capable bikes on the market to choose from, two big questions have been on everyone's mind:

- When are they actually starting?
- What bikes will they be driving?

The latest rumors are up, and speculation based on information circulating on Twitter and the ADV community blogs may be bringing us the answers.

Pictures of Harley Davidsons LiveWire, as well as support vehicles, have been posted being uncrated in Ushuaia, alongside with pictures of Ewan in Buenos Aires, both located in Argentina where we know the trip will start.

Reference: Image from autoblog.com.ar

This may tell us that the adventure is about to begin and that the boys may be going electric.

But if this information sheds some light on our questions, it actually raises more doubts than we had before, and may put the Long Way series in a hard spot with the ADV community.

Although pictures show the bikes slightly modified when compared to stock, using spoked wheels, hand warmers, and luggage racks, this out of the left-field choice is still far from what most consider an adventure bike.




Reference: Image from autoblog.com.ar

Reference: Image from LoneRider


Here at Braaaaaapp we always say that all bikes are adventure, but seeing where Ewan and Charley drove their GS's in their previous adventures, and how – sometimes badly – the bikes coped, one can only wonder what type of terrains will the Long Way Up cross when using the Harley Davidson LiveWire.

Another critical aspect to consider is assistance.

If on the previous iterations of the Long Way series, the duo was accused of being fake adventurers due to the support team and back office, with all kinds of theories of them having replacement bikes on standby, this time accusations may have grounds to stand on.

Although many of us believe electric will be the future, myself included, when it comes to adventure riding we are not there yet, and driving electric bikes on such remote locations means one would need serious help.

For them, that help will come in the form of two extra bikes, as four have been reportedly uncrated, two electric Rivian trucks, two Mercedes-Benz Sprinter 4Matic, and a Ford F350 V8.




Reference: Image form autoblog.com.ar

Reference: Image from autoblog.com.ar

Reference: Image from autoblog.com.ar  

Considering that they decided to go electric, doesn't bringing along two diesel and one petrol truck defeat the purpose?

It is essential for environmental awareness for big productions such as this one to embrace the future, which in this case, could mean using electric bikes.

However, if to complete the trip, they need to rely on fossil fuel-hungry engines, will this choice actually help change minds regarding electric bikes, or give naysayers easy ammo to attack the concept?

Knowing the effect that the first Long Way had on the motorcycle industry, we shouldn't dismiss the impact of correctly, or wrongly using an electric bike on this iteration of the show.

The same can be said about the entire Long Way series.

Many have drank the kool-aid and embraced every single episode of the series as an example of the ultimate freedom and adventure, but even for those, it will be hard to deny that the boys may have sold out.

With the amount of off-road capable bikes suited for an adventure like this, it is not a stretch to believe Harley Davidson may have cut a very sizeable check in order to have their bike chosen.

All in all, for now, these are just rumours, and we will have to wait just a bit longer to know for a fact what will happen, however, things are starting to change from excitement to doubt in the adv community.

Where do you stand?

Are the boys ahead of their time in wanting to take electric bikes, potentially jeopardizing how many will see e-bikes, or do you think they sold out and this last season of the Long Way series will be a total bust?

Can you think of any better bike for this endeavor, electrical or petrol powered?
---